By Vanessa Vandersande, DVM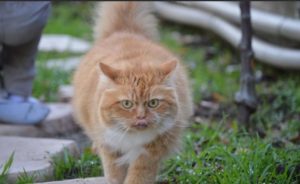 A Cat Friendly Practice, as designated by the American Association of Feline Practitioners, is a veterinary practice which is especially sensitive to the distinct characteristics of felines and is equipped to address both their physical and behavioral needs. Veterinarians and their team members who have achieved Cat Friendly Practice status regard the practice with the cat in mind.
Cat Friendly Practices elevate the standard of care afforded to their feline patients. In order to be awarded the designation of being a Cat Friendly Practice, the veterinarians are specifically trained on the distinct needs of cats and to assess their physical environment, as well as the delivery of medical care provided. The staff are trained in special gentle methods of handling cats in order to reduce their stress and not frighten them.
Decreasing stress is important in a Cat Friendly Practice. Special feline pheromones are administered in the exam rooms in order to decrease fear and particular techniques are used to limit a cats time in a stressful situation.
Medical approach is specialized in a Cat Friendly Practice. The veterinarians are required to have a particular understanding of the specific needs and medical concerns of cats in all life stages. Specialized equipment is available for assessing a cat's health that is specifically made for or sized for a cat's needs. Cat safety and comfort is regarded as an imperative.